A new war is about to be waged, and at the moment it is not between the two tech giants, Apple and Samsung. This war is between Android Tablets and laptops running on Android. While this is great for companies, this is not the case for consumers, who are already bewildered by the vast array of products out there. When considering purchasing either an Android Tablet or a laptop running on Android, factors such as price, features, user experience, and design need to be considered.
What Are Android Tablets And What Are Their Benefits
Tablets are hybrids, combining the functionality of a phone and a personal computer. Though the processor speed is also in between both ends, tablets are hot in all markets these days. Due to the large range of functionalities, tablets running on android provide users with an experience that is something more than a smartphone. Android Tablets provide the touchscreen option that is already appealing to hoards of customers and the large number of applications that have found a loyal fan following.
These tablets have fast processors, and connectivity options like Bluetooth, Wi-Fi, and even the option of using a SIM. There are no restrictions on where you can download applications from and this hands it a mighty advantage.
The Google Nexus 10 is an android tablet that is gaining a lot of popularity. With a resolution of 2560 X 1600, it claims to be the world's highest resolution tablet. It is packed with powerful features which include a dual-core ARM Cortex A15 processor, an advanced MIMO Wi-Fi, 2 GB RAM, internal memory extendable up to 32 GB, a 5 mp primary camera, and a 1.9 mp secondary camera.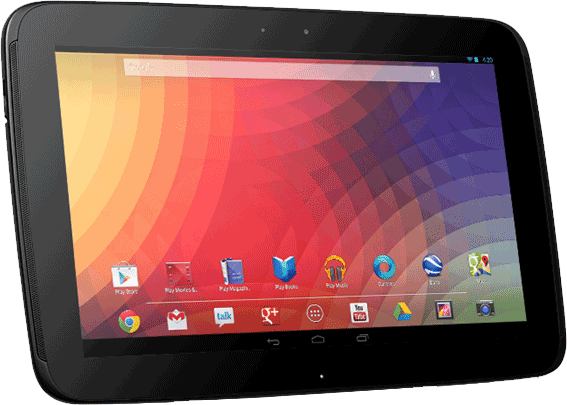 Laptops Running On Android And Their Advantages
Intel recently launched its touchscreen laptop, which runs on Android. While it is common knowledge that laptops are generally cheaper than tablets, this beauty comes with a price tag of only $200 USD. This line of laptops comes equipped with an Atom processor, which can convert a laptop into a tablet.
Companies such as Asus have introduced this concept in the market, with their Transformer and Slider versions in the form of Android Notebooks.
The ASUS Transformer TF101 runs on the Android version Honeycomb with a 1GB RAM and extendable memory of 32GB. This costs around 399 dollars with 16 GB storage and 499 dollars with 32 GB storage. There are two cameras, a front-facing 1.2 mp and a 5 mp rear facing camera. The display is 10.1 inches with a resolution of 1280 X 800 and this laptop contains a Dual-core 1 GHz Cortex-A9 CPU.
Which One Wins The Game – The Android Tablet Or The Laptops Running On Android
Laptops on Android have received mixed reviews and have remained a niche product. The cameras also are rated at lacking finer quality while recording, though the sound system is powerful. The Android OS, from user reviews, seems to be completely useful only on tablets and a lot of features are left unused in laptops. It is hard to close the thumbnails of the last five programs used. For the OS to be used to the maximum, Google needs to make running Android on laptops more practical. For instance, they need to optimize their trackpad input, features that support desktop input, and a better version of Google Drive. There also needs to be more Android apps that have to be made specifically for usage on such hybrids.
This makes it more convenient for the owner of a tablet to experience the advantages of the OS much more.
Laptops running on Android have only recently entered the market, and though for now they are cheaper than tablets, the large number of features provided by tablets will attract consumers more. Also, the OS is more suited to devices like tablets and smartphones. As such laptops are still in the nascent stage in the market, it is too early to actually determine which set of gadgets will be more successful, the Android tablet or the laptop on Android.
We can only wait for manufacturers to come out with more innovative products and see who wins the race.