The market leader in IaaS (Infrastructure-as-a-Service) and PaaS (Platform-as-a-Service) for cloud ecosystems today is just Amazon Web Services (AWS). It can be combined for creating a scalable cloud application without the tension about delays related to infrastructure provisioning (compute, storage, and network) and management.
AWS allows you to select specific solutions for your need and just pay for what you use. This leads to lower capital expenditure and faster time to value without affecting the performance of application or user experience.
You get a big list of products and services to building or expand your cloud environment.
AWS enables the new and existing companies to build their digital infrastructure partially or entirely in the cloud, eliminating the concept of the on-premise data center. The AWS cloud offers reliable infrastructure, flexible security standards, and allows you to instantly grow or shrink your infrastructure for meeting the business needs and expand your budget, without making an upfront investment in equipment.
Advantages of AWS
Below are the pros of using AWS services:
Organizations can use the operating systems, programming models, databases, and architectures, they already know, with the help of AWS.
Since it is a cost-effective service you need to pay only for what you use, without any up-front or long-term commitments.
There isn't any need to invest money on running and maintaining data centers.
You get fast deployments.
It is not possible to easily add or remove capacity.
You get the access to cloud quickly without any restrictions.
Total Cost of Ownership is very low in comparison to any private/dedicated servers.
It offers centralized billing and management
You get hybrid capabilities.
You can deploy your application in multiple regions globally with just a few clicks.
There are many cloud hosting providers that offer managed services for AWS cloud so that you can focus on your business. One such managed AWS cloud hosting provider is MilesWeb.
About MilesWeb
MilesWeb was established in India in 2012 with an aim of catering the business with all the needs for hosting their websites. They make use of the latest technology in terms of hardware and software to provide the first-class performance. They have all types of web hosting services with them right from the basic shared to the independent dedicated and the advanced cloud hosting. Their customer support team is well-trained and has the complete knowledge of server management. They can be contacted at any time via live chat and email for any queries.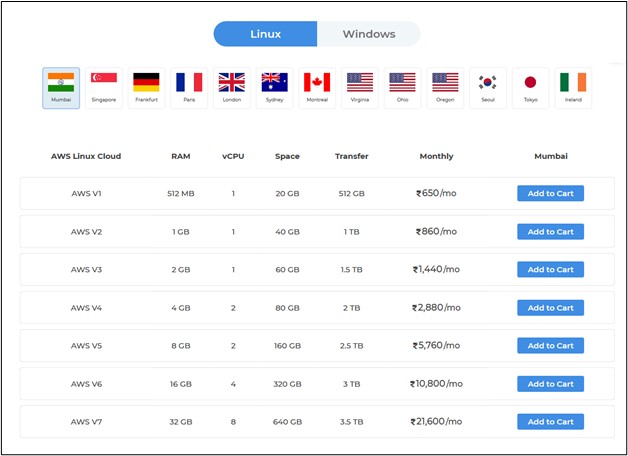 Benefits of Managed AWS Cloud Hosting
Migrate Your Website for Free: Their experts have a great experience in migrating websites and have done it effortlessly without any downtime. They will make sure that your website works smoothly on their AWS server.
AWS Certified Team: They have a team of certified professionals that manage your AWS. They know how to manage your AWS server and make it powerful, secure and convenient.
Time-Saving: Because all the server-related tasks such as updates, patching as well as other daily operations needed for managing your AWS cloud are done by their team.
24/7 Available Support: Their team is available 24/7 to support you and assists you for your AWS related queries.
Server Monitoring: Your AWS server is monitored and always kept up to the topmost extent by monitoring the traffic spikes, infections and other issues.
Optimization and Growth: For grasping the latest AWS services, your AWS server is enhanced for expenditure, performance and security.
Increased Productivity: Don't worry about your AWS cloud platform administration. Their team will administer the cloud platform and you let your team focus on their tasks.
Server Location Choice: You can select your preferred server location so that your target audience doesn't face loading issues with your website.
Suggest Suitable Plan: Their team will suggest the most suitable plan for your website in case you get confused while selecting one.
Customer Reviews
Are They the Best Partner to Manage Your AWS Cloud?
Since management is completely taken over by them, you can easily focus on your business growth. Also if you are new to the management of AWS, they also assist you to select the plan. You get to select the server location as per your target audience. They also guide you through the entire server setup process and so you can trust them. They ensure that you get a powerful platform for your AWS server with strict compliance and high security.